Real Weddings: No. 1
There cannot be a rustic, lakeside, Halloween weekend wedding that has come together more seamlessly and beautifully than Angela and Marcus Wards fall event at Spring Lake Events just outside of Atlanta, Georgia.
Although the weekend presented to be much colder than expected, we cranked the heaters, got the dance floor jumpin', and had the guests sippin' on hot apple cidar (and booze)! Add in the heat between the newlyweds and we were toasty!
This rustic, yet elegant affair was a complete and total expression of the bride and groom. From the camo cake, turquoise cowboy boots, and antler details to the monogrammed doilies, broach bouquet, and lace dress, both their love for the rustic outdoors paired with Angela's femininity were melted into one.
Welcome to Our Rustic Fall Wonderland
Grace Armas knocked it out of the park for all 7 bridesmaids as well as the bride with hair and makeup. And let me just tell you, it stayed amazing all day and night!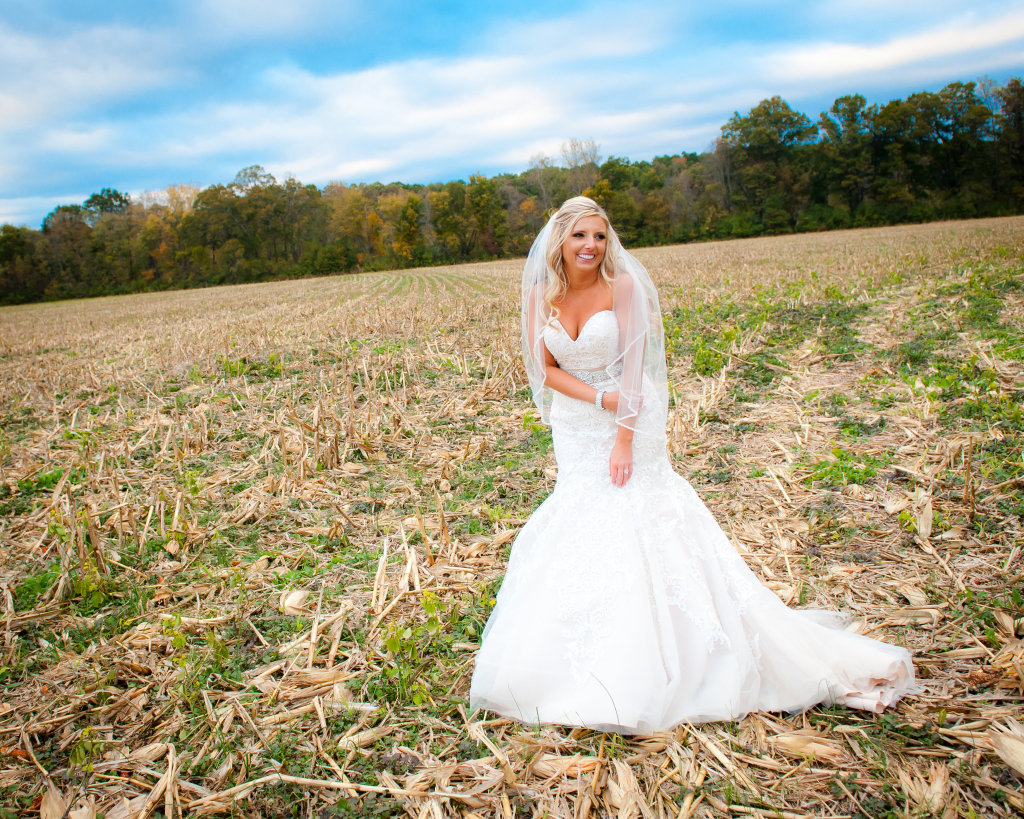 This Allure dress from J. Andrews Bridal could not have been more perfect for our rustic elegant setting.
Favorite memory:
As you can see by the look on our faces, seeing each other for the first time was something we were both looking so forward too! Also watching the beautiful rustic venue be decorated was like watching my vision come to life! Very awesome to watch!
Top 3 moments you wanted captured:
Our first look so that we would remember that moment forever.
Photos in the corn field to express our love for the rustic outdoors.
Candid shots of Marcus and I that show us being our natural selves. We LOVE the photos!
Best part about the planning process:
Everything! My Wedding coordinator, Ashley, made me feel at ease the entire time and helped me figure out so many of my details. Also, my dear friends and bridesmaids were by my side the entire time helping with anything I needed as well. I am also so happy with how the wedding party attire came together to create a beautiful neutral palette.
The two buffet tables we rented from Miss Miley's really helped pull together our look.
Take a closer look at the ring bearers face. What a precious little boy moment captured perfectly by the photographer!
Two design elements you wanted to see come to life:
The tables! Ashley did a wonderful job creating what I envisioned. Each table was perfectly crafted with the details I wanted and brought to life my style of rustic meets elegance. I couldn't wait to see all of the detailed chalkboard signage be added as well.
We leaned 6 windows along the fence that the guests would pass on their way to the ceremony. I ended up having to tie them to the fence because the wind picked up.

The bridesmaids (in short, chiffon, sleeveless dresses) did whatever it took to keep warm!
What a simple, yet impactful detail with the baby's breath placed in the beautiful rustic arbor.
The baby pecan pies were so delicious and lucky me, I ended up snagging a few leftover during clean up. And the chalkboard artwork was simply beyond!
One difficult aspect of the planning process and advice:
I waited over 3 months for several detailed decor items including our guestbook and ring box, all of which I had already paid for with no communication from the seller. The wedding was approaching FAST and Ashley jumped right in and helped me get in touch with the vendor. I received the package 3 days later and was so relieved! And the items were beautiful! Advice: Get things handled and hire someone that can handle them efficiently. I had to learn that business is business and that I deserved answers in this case. 
Advice to the newly engaged:
Start with a budget and hire a coordinator. I'll say it again, HIRE A COORDINATOR! A coordinator alleviates so much stress and allows you to stay organized and enjoy the creative process. If you can find one that you have a real connection with like I do with Ashley and someone you can be fully creative with, then that is where the real magic happens!
I snagged these last minute silver leafed antler candelabra's at Marshalls and texted Angela a photo. We we're both like, "Yes!"

I mean COME ON! Look at those cakes! They were both unbelievable.

The smore's bar was a hit, but unfortunately it was so cold that most guests had to stay inside of the warm barn.
The best decision you made:
Well, it goes without saying that hiring Flower Child Weddings and Ash as my coordinator was the best decision we made for several reasons. I also learned a lot! As tiny a detail as it seems, finally deciding to rent the chairs that I wanted that I went back and forth about ended up being a great decision and I could've made the decision a lot sooner and checked it off my list. Sometimes you just have to trust your gut! I am so thrilled with how everything looked and more importantly how the day went. It was my perfect (and cold) wedding day.
One of my all time favorite wedding photos!
Flower Child Fact:
We had a custom built playback screen that played a live feed slide show of any photos that were uploaded to Instagram and hashtagged #peaceloveward. It was super cool and a hit with the guests! Plus, the couple got to enjoy seeing a million moments that they were unable to see in person from their entire wedding day!
Search #peaceloveward on Instagram to check it out and be sure to follow @flowerchildweddings while you're there.
Contact info@rantmediagrp.com for more info on how YOU can have one too!
Flower Child Fact:
With their wedding rehearsal falling on Friday, October 31st, the bride and groom asked their wedding party to come in Halloween costume! I loved this so much and this is a testament to how much fun the bride and groom bring to their their communities of loved one's.
Myself (far left), with my Flower Child Weddings team member, Michelle (far right) with the "hippie" parents of the groom and the "typical tourist" bride.
I had such a peaceful, enlivening, and joyful experience working with Angela (Angel). I have known her since we were teenagers and am so thankful and happy to have been a part of this day with her and Marcus. May you always have Peace + Love.
Bridal Party Processional: Canon in D | Recessional: Brown Eyed Girl || First Dance: George Strait I Cross My Heart || Father/Daughter Dance: Stand by Me ||Mother/Son Dance: Simple Man
Vendor Love
Coordination: Flower Child Weddings || Venue: Spring Lake Events  || Catering: Harvest Moon || Photography: Graceology  || Videography: Rita Collins || Hair + Makeup: Grace Armas  || Rentals (standard event): Chairs and Plate Chargers from Event Rentals Unlimited || Rentals (vintage/specialty): Antique Buffetts and "His and Her" Chairs from Miss Millys || Floral Design: Spring Lake Events  || Wedding Cake: Honey Moon Bakery || Wedding Dress: Allure at J Andrews Bridal || Bridal Accessories: Angel Bridal Shop || Bridesmaids Dresses: various off rack || Menswear: Savvi || Favors: Pecan Pies and Hankies || Gifts: Mainstreet Collection  || Paper goods: Lauren Carlson || DJ: Rolling Road Show || Guitarist: Tim O'Donovan || Rehearsal Dinner: The Steak House Rockmart, Georgia || Playback Screen: info@rantmediagrp.com